The impressive Lamborghini 63 is unveiled
This is the impressive Lamborghini 63, which will set new standards for motor yachts and is the culmination of a tie-up between The Italian Sea Group and supercar maker, Lamborghini.
The premiere of the Lamborghini 63, built by Tecnomar, celebrates the supercar maker's dedication to cutting-edge design and sublime handling.
The yacht will only have limited availability but will deliver the quality, excellent driving pleasure, and performance that Lamborghini is famed for with its roadgoing vehicles.
The Lamborghini 63 is undoubtedly a uniquely-styled creation full of the firm's timeless tradition and originality.
Inspired by the Sián FKP 37
Developed by The Italian Sea Group's design experts, along with Lamborghini's styling team, the inspiration comes from the carmaker's impressive and eye-catching hybrid super sports car, the Sián FKP 37.
Lamborghini's chief executive, Stefano Domenicali, said: "If I had to imagine a Lamborghini on water, this would be my vision. I'm delighted to celebrate this successful collaboration.
"We present Tecnomar for Lamborghini 63, a motor yacht which will become as futuristic an icon as the car she is inspired by."
The Tecnomar for Lamborghini 63 is powered by two V12 engines, much like the roadgoing inspiration, and will reach 60 knots to be the fastest boat created by Tecnomar. The new offering will be in-demand from motor yacht collectors and those who love a stylish and fast boat.
Built from carbon fiber, she weighs in at 24 tons and is 63 feet long. She is going to be a popular choice in the ultra-lightweight boat classification.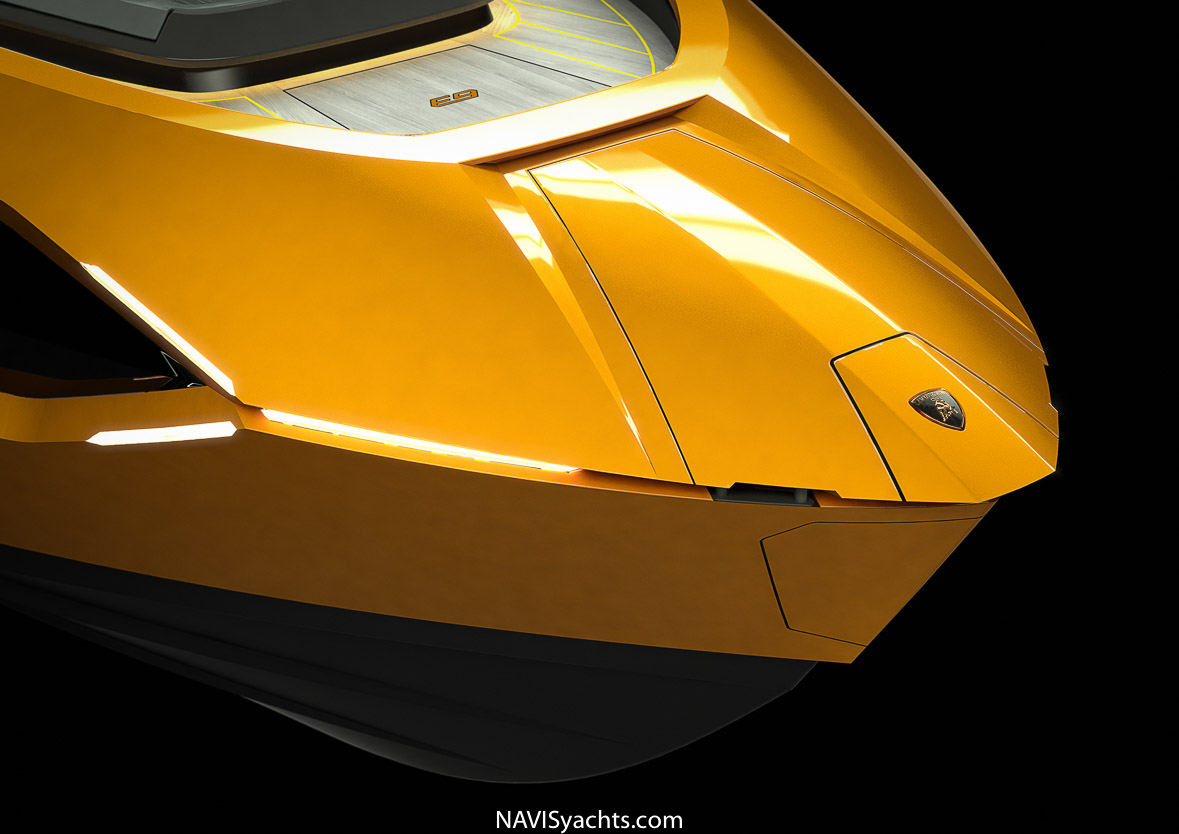 A nautical-but-car-inspired cockpit
The inspiration from the sports car doesn't just end with the exterior styling but also to the motor yacht's instrument panel, which resembles a nautical-but-car-inspired cockpit with integrated navigation and control systems.
The sport seats use Lamborghini's 'carbon skin,' and the car's steering wheel has been fitted for owners to enjoy an impressively styled and great handling motor yacht.
The yacht's designers have taken inspiration from Marcello Gandini, who created the sweeping and iconic lines of Lamborghini Miura and Countach of the 1960s and 1970s.
Potential buyers of the motor yacht will have a choice of two excellent interior designs and various exterior colors and liveries. The interior materials deliver a luxurious and timeless offering.
The Tecnomar for Lamborghini 63 is available to order now with her first deliveries beginning early next year.